Kasriel Broydo 'The same old streets, the same old trams'
From the compilation of songs from the Vilna Ghetto by Shmerel Katcherginsky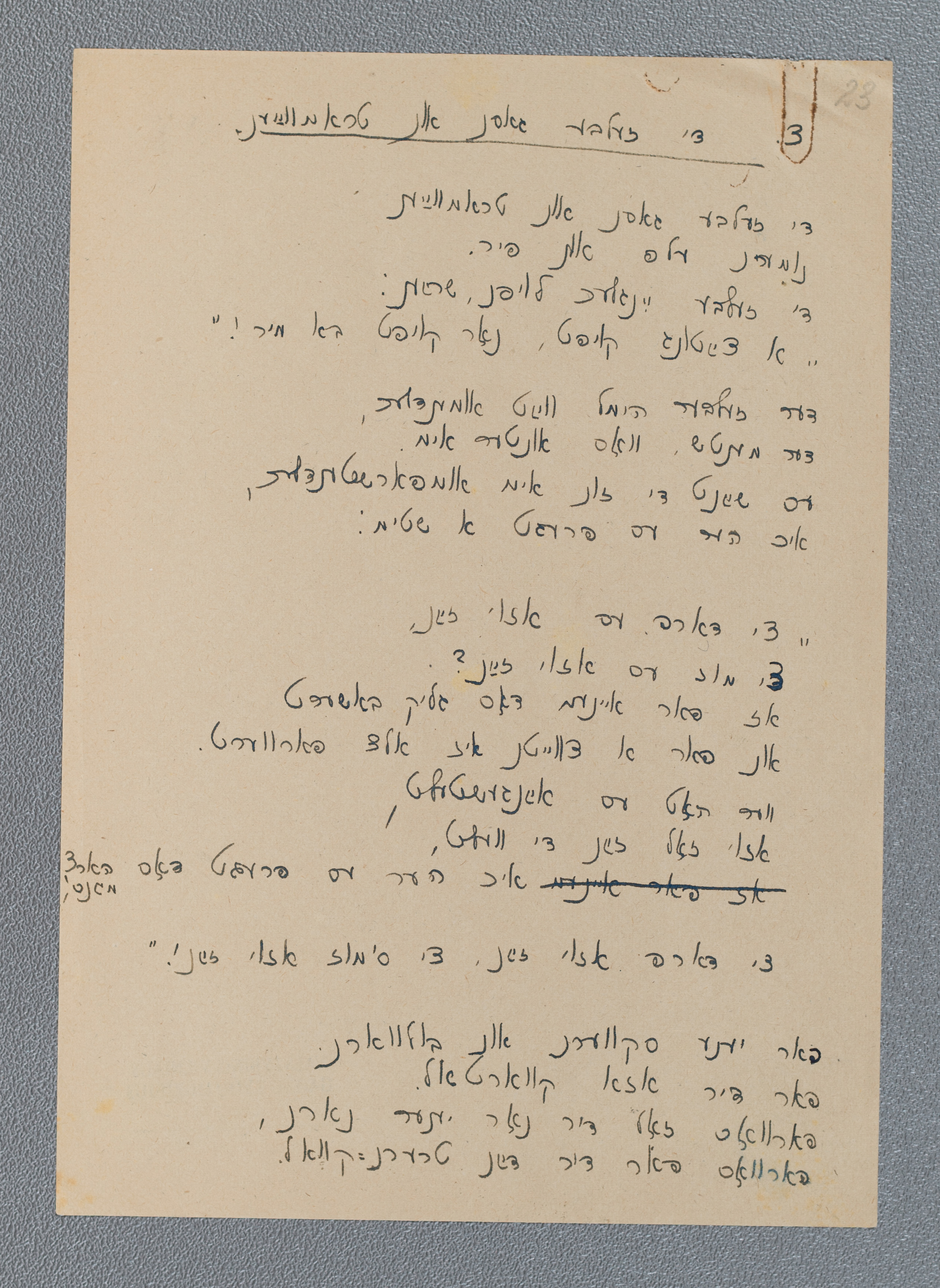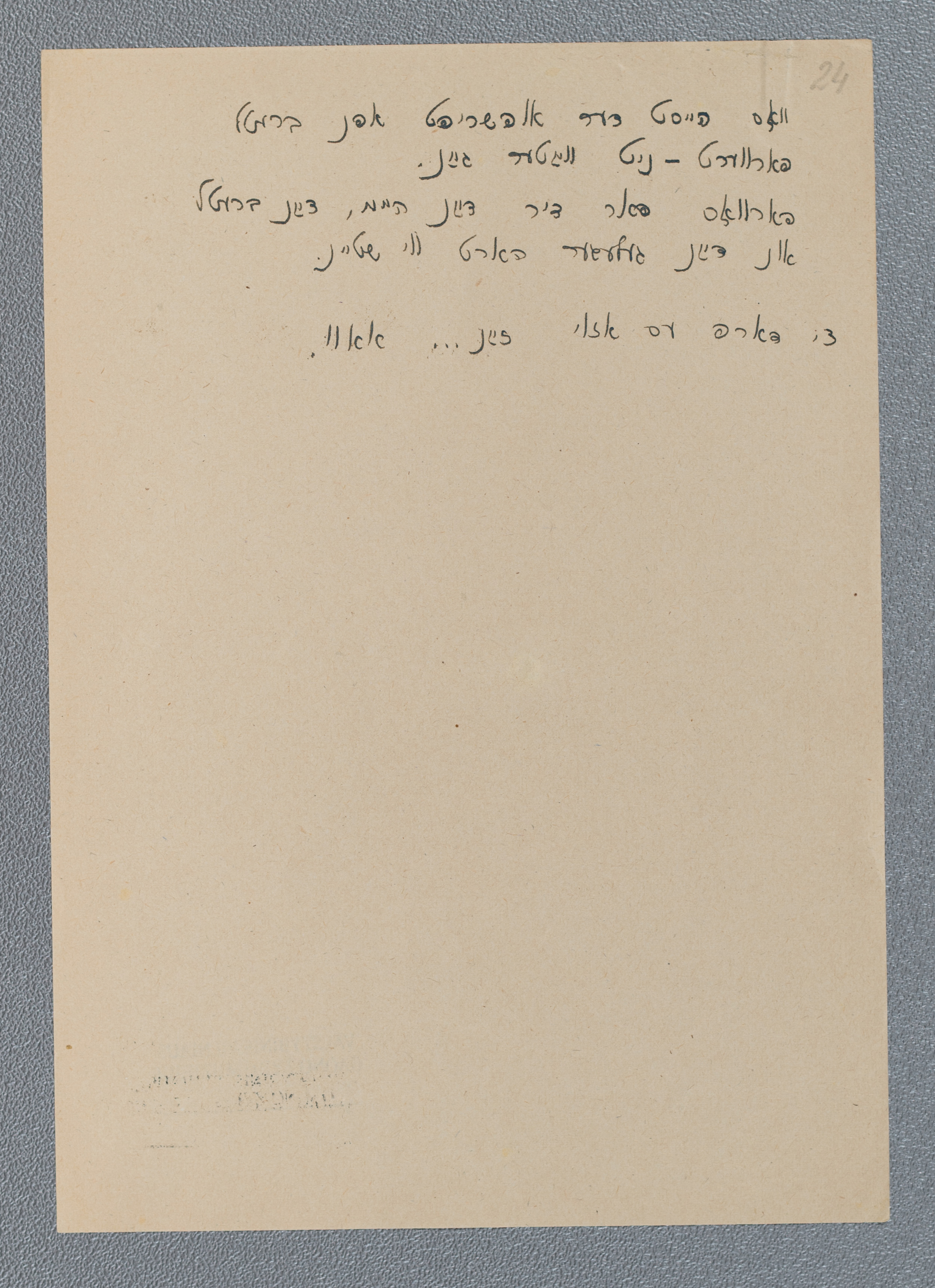 The song was written in the Vilna Ghetto. Lyrics and music by Kasriel Broydo.
There was a huge poster at the gate leading to the Vilna Ghetto which read: "Attention! Smallpox danger! Jews live here. Entrance for Arias is strictly forbidden!" This comment is taken from the compilation Songs and Poems from the Ghetto by Shmerel Katcherginsky published in France in 1947.
Kasriel Broydo was born in 1907 in Vilnius, where he graduated from a Hebrew gymnasium and became a professional actor. From 1935, Broydo was an actor at the puppet theatre Maidim (Pranksters). He wrote lyrics for songs and couplets. While in the Vilna Ghetto, he continued to act and write songs, reviews and music. Broydo wrote reviews for such plays as Korene jorn un vei cu di teg (Great rye harvest and an end to the good old days), Moiše, halt zich (Hold on, Moishe) and Men ken gorništ visn (You never know). 
 
In 1943, Broydo was deported to Narva and Kivioli concentration camps in Estonia. In 1944, he was taken by sea to Stutthof and from there to Konigsberg for hard labour. After finishing work each day, Broydo together with fellow-actors, brothers Fima and Marek Shapiro, kept the spirit of inmates alive by singing their songs and reciting poems. In 1945, when the "march of the dead" began, the inmates, including Broydo, surrounded by Germans and Ukrainians were taken to the Baltic Sea where in the night of 29 January they were forced into the water and shot to death.
The same old streets, the same old trams –
Numbers 11 and 4,
The same young boys shouting around:
"Buy a newspaper, buy it from me, sir".
The same endless sky,
And people beneath it,
Bright, clear sunlight,
And a voice within me:
Refrain:
Can it be this way?
Must it be this way?
One man enjoys happiness,
While another is banned from everything.
Who was the one who said
The world must be this way?
My heart keeps asking:
Can it be this way?
Must it be this way?
For them all the boulevards and squares,
And just one single block for me.
Why should someone deceive me?
Why must I shed so many tears?
Why the inscription on the wall:
"You shall not walk past here?"
Why do they take my home, my bed?
And I lie on a rock hard berth in tears. 
Prepared by Ilona Murauskaitė, conservationist and researcher of written holdings at VGSJM 


Translated by Diana Guogienė 


Photo by Paulius Račiūnas
© From the holdings of VGSJM