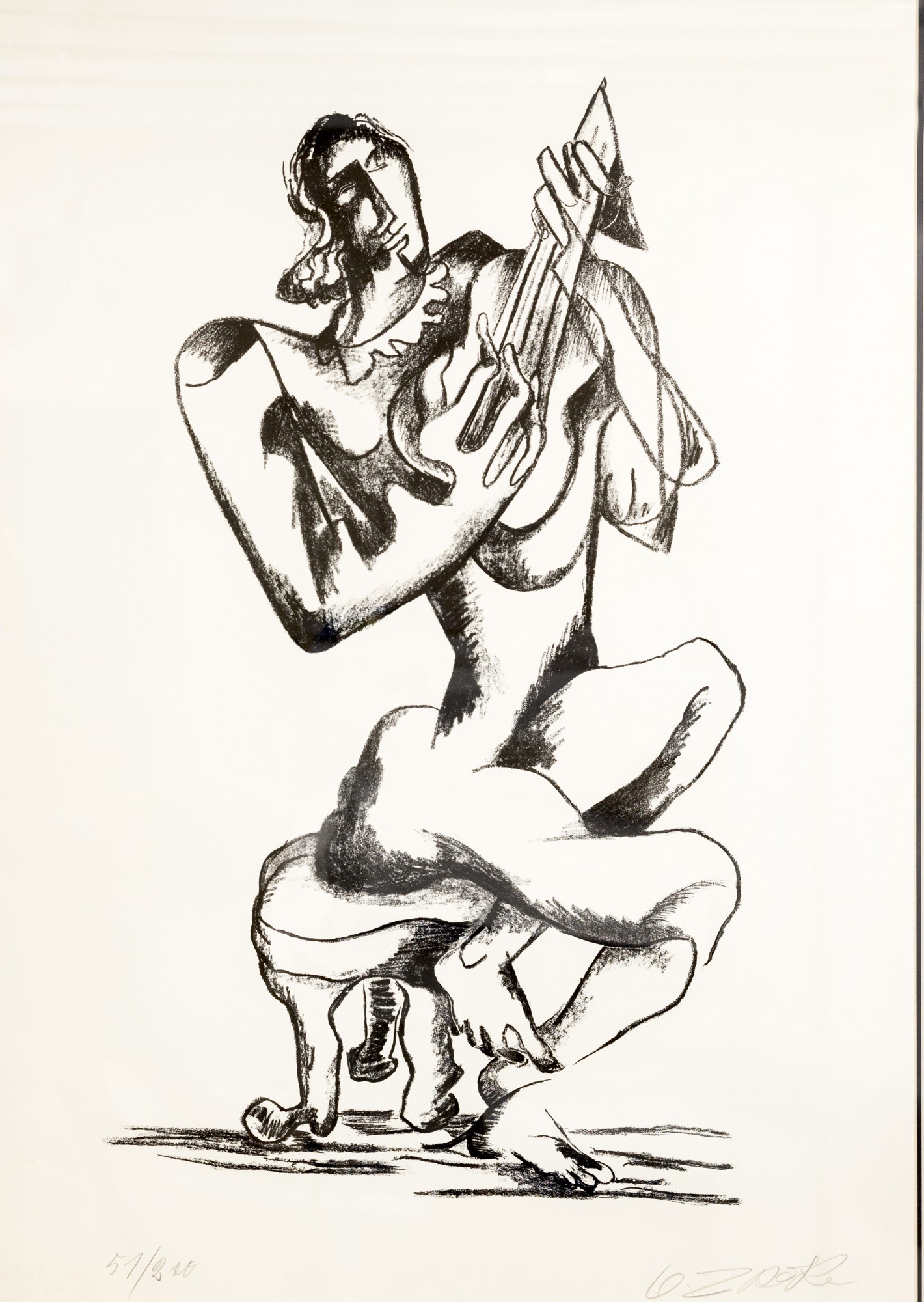 Ossip Zadkine. Man Playing the Lute. Paper, lithography. 1920s
Ossip Zadkine – sculptor, graphic artist, poet – was born in 1888 in Vitebsk (other sources say that he was born in Smolensk) into the family of a Scottish mother and a Jewish father. He attended Yehuda Pen's School of Drawing in Vitebsk together with Marc Chagall and Lazar Lisickij. In 1907, encouraged by his family, Zadkine left for London to study. In 1909, he went to Paris where he attended the National School of Arts for a short time before being accepted into the famous La Ruche. The sculptor contributed to the establishment of Cubism as a new trend in art. He offered accommodation to his friends from Vitebsk Marc Chagall and Lazar Lisickij and introduced them to the Parisian artists Amedeo Modigliani, Chaim Soutine and Henri Leger.
 
In 1915, during World War I, Ossip Zadkine served as a volunteer in a military hospital. After the war, he took part in many exhibitions in Europe. He soon won wide recognition. Zadkine's works dating back to the 1920s are his contribution to Cubism and music. His collection of musicians, composers, accordionists and violinists is based on the cubist idea of recreating a human figure in geometrised forms. His works of the time represent melody cast in bronze, painted on canvas and imprinted on paper.
 
Zadkine spent World War II in the USA. When the war was over, he returned to Paris. It was then that he created a number of works on the pacifist theme. In 1953, his sculpture The Destroyed City was unveiled in Rotterdam. It is his most prominent work. Zadkine held around 150 solo exhibitions of sculpture and graphic art throughout Europe, Great Britain and the USA during this post-war period.
 
Even though Zadkine's works underwent major transformation starting with Cubism and going on to Expressionism throughout the 20th century, he preserved his individual plastic manner and his inimitable touch. The principle of contra-relief has always dominated his works. The space in his artwork seems to be turned inside out.
 
Zadkine's works can be found in many museums throughout the world. The Zadkine Museum in Paris, which opened in 1982, boasts the biggest collection of his artwork.
 
The Vilna Gaon State Jewish Museum's collection contains a graphic work by Ossip Zadkine
Man Playing the Lute
which dates from the 1920s. In the lithograph the author combines features of Cubism and Primitivism, and employs embossed and arched planes, including flowing baroque forms.
Prepared by Irina Nikitina, conservationist-researcher of holdings at the Vilna Gaon State Jewish Museum
Photograph by Paulius Račiūnas
© Photograph courtesy of the VGSJM collection