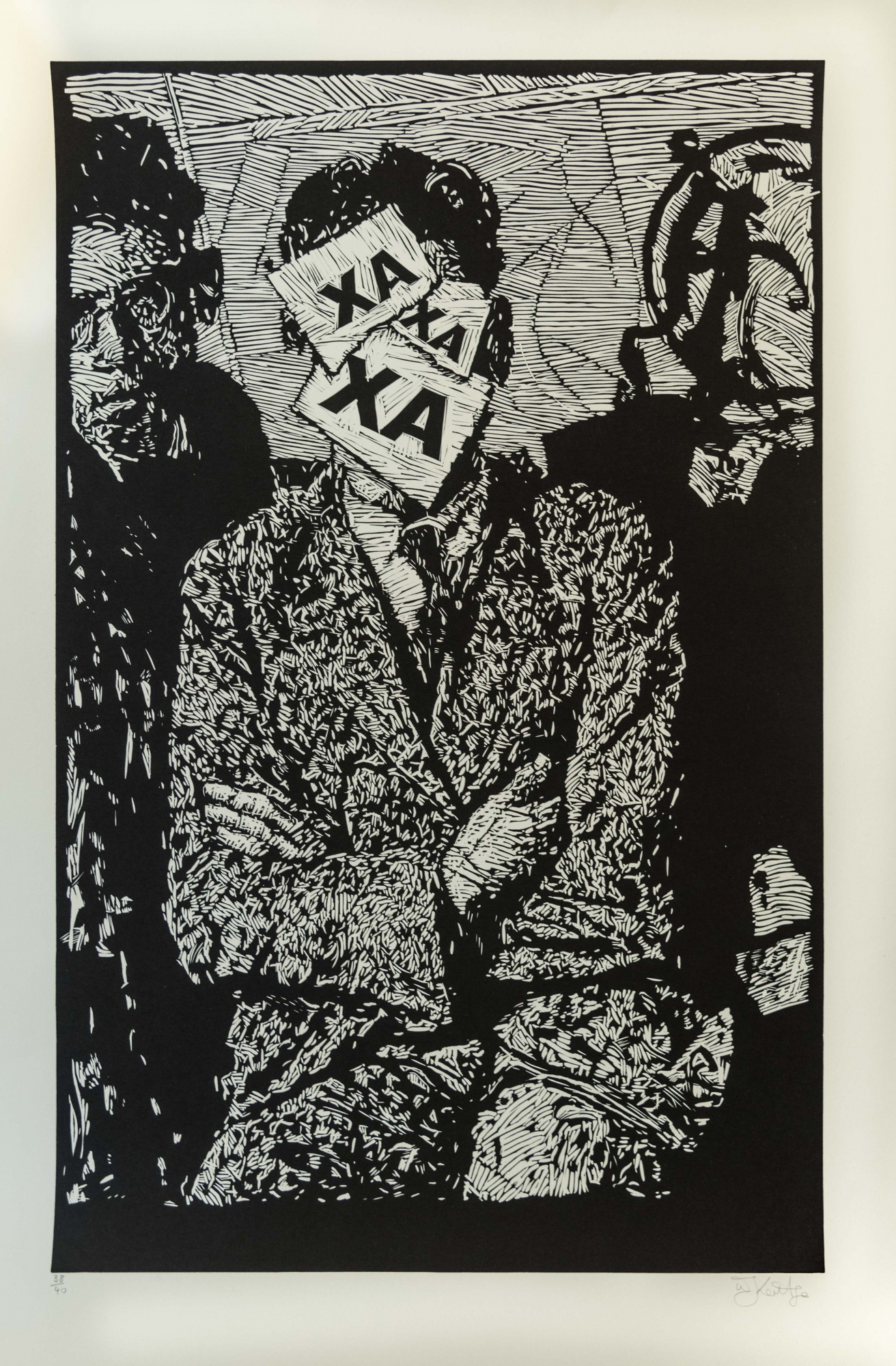 William Kentridge, XA XA XA, 2010. Linocut, 95 X 57, run 38/40, VGSJM
William Kentridge (born in 1955 in Johannesburg, Republic of South Africa), whose grandparents on his father's side came from Lithuania, is one of the most famous interdisciplinary artists of SAR. He is actively working in multiple artistic fields, such as graphic art, scenography, animation, performance and video art. As the son of two lawyers who fought against the Apartheid regime, he learned to question the imbalance of powers in the country rather early in his life. The artist uses various means of expression to present political events disguised as affecting poetic allegories. Kentridge is especially fond of the animation technique which involves photographs of drawings in charcoal and paper collages with all the changes to the drawings and erasures preserved.
Kentridge has already held exhibitions in almost all of the world's most famous museums. His artwork was presented at Documenta exhibitions X, XI, XIII in Kassel, Germany (1997, 2002, 2012), Sao Paulo Biennial in Brazil (1998), Venice Biennial (1999), Havana Biennial in Cuba (2000), and Sydney Biennial in Australia (2008).
Kentridge received numerous invitations to work on opera scenography. His opera and theatre projects were presented at festivals in Grahamstown (South Africa), Avignon (France), Salzburg (Austria) and elsewhere. One of his most famous works was the staging of the opera 'The Nose' by Dmitry Shostakovich in 2006.
The plot of 'The Nose' became a perfect means to its author Nikolay Gogol to speak ironically about Russia in the 1830s – the period of despotism, terror, heavy bureaucracy and social division. Gogol's story helped Kentridge in his research into the recent history of his own fatherland. Kentridge integrated the absurd and bureaucratic tyranny of Gogol's Russia with Stalin's regime and the recent history of Apartheid in South Africa.
The linocut that the artist donated to the Vilna Gaon State Jewish Museum is dedicated to the crackdown of Stalin's opponents. The artwork portrays Nikolai Bukharin, a Bolshevik condemned to death, in whose final story laugh and death are intertwined in a macabre way. His political impotence is expressed by covering his lost nose with the words XA XA XA.
Prepared by Karina Simonson, Museology Specialist at the History Research Department of the Vilna Gaon State Jewish Museum