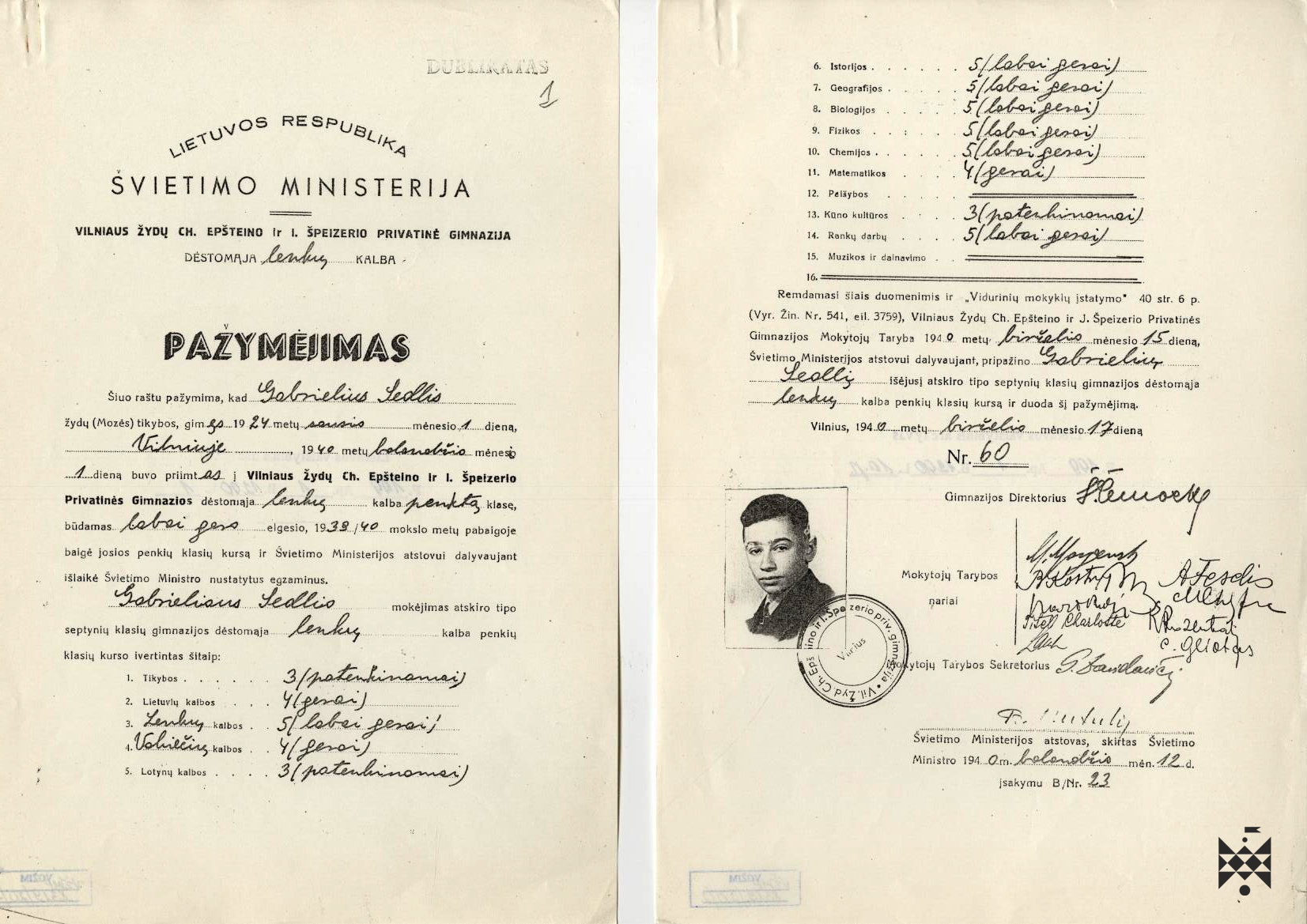 Duplicate of Gabriel Sedlis' certificate. Vilnius, 1940, Acc. No. VŽMP 8319-20/1, 2
On 15 June 1940, Gabriel Sedlis, a student of the Jewish Private Gymnasium of Chaim Epstein and Israel Speyzer with Polish as the language of instruction, was awarded a certificate to testify that on 1 April 1940 he was admitted to the 5th grade of the gymnasium, and, being a student of exemplary behaviour, at the end of the 1939–1940 school year completed the five-grade education and successfully passed the exams prescribed by the Minister of Education. Then follows a list of subjects that were taught and respective grades awarded. The Teachers' Council of the gymnasium, in the presence of a representative of the Ministry of Education, issued this certificate to Gabriel Sedlis and thus recognised that he completed a five-grade course taught at the seven-grade gymnasium with Polish as the language of instruction. The certificate was signed by the director of the gymnasium Shiya Chernotsky and the following members of the Teachers' Council: Michal Morgenstern, Benedict Kostrinsky, ..., Charlotte Titel, ..., Abraham Fesel, ..., K. Rozental, Chaim Gliyot, Secretary of the Teachers' Council G. Davidowich, and a representative of the Ministry of Education B. Untulis.
 
Gabriel Sedlis was born on 1 January 1924 in Vilnius in the family of Ana and Eliyahu Sedlis. Until 1939, he studied at the Polish gymnasium in Vilnius, and later, due to intensified anti-Semitism, he was transferred to the Jewish Private Gymnasium of Chaim Epstein and Israel Speyzer with Polish as the language of instruction. Sedlis attended an art school and wanted to become a painter. Shortly after the Nazis occupied Vilnius in the summer of 1941, that is in September 1941, the Sedlis family was imprisoned in the Vilna Ghetto together with all the Jews of Vilnius. The young artist Gabriel Sedlis took part in the cultural life of the ghetto. He painted, created graphic art, participated in artistic competitions and exhibitions of the ghetto, including the activities of the ghetto theatre, and created decorations for performances. In 1942, he was accepted into the team that was making a plastic model of Vilnius. Just like all other members of this group, he had an exclusive permit to leave from the territory of the ghetto, walk around the city and sketch the buildings of Vilnius.
 
Before the liquidation of the ghetto, Gabriel Sedlis managed to leave its territory and escape for the forest together with a group of underground fighters. His mother was killed, and his father with his brother Alexander escaped the perish. The names of Eliyahu, Gabriel and Alexander Sedlis are on the lists of Jews who lived in Vilnius in 1944. After the war, in 1949, Gabriel Sedlis went to the United States where he studied at Harvard University, became a famous architect, and started a family. Sedlis married Joan Bzhezinskaya. They had a son named James and a daughter named Sophia. Gabriel Sedlis died in 2003 in New York City.
 
Prepared by Jovita Stundžiaitė-Olšauskienė, curator of the auxiliary collection at VGMJH
© From the collections of VGMJH