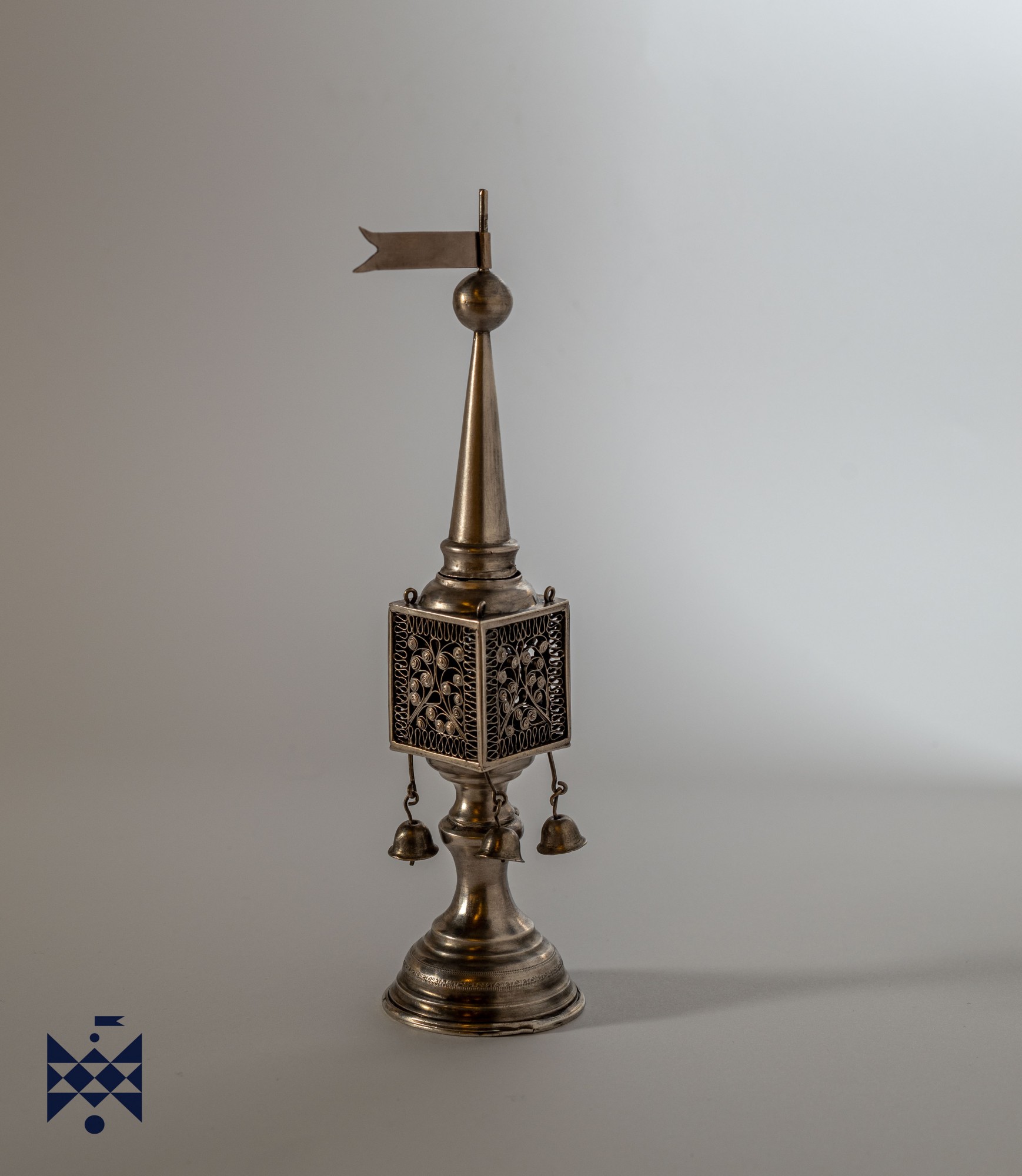 Spice box (besamim)
Late 19th—beginning of 20th century, silver. Height—22.5 cm, bottom diameter—5.5 cm,
Acc. No. VŽM 7920
The word besamim (besamim (pl.) in Hebrew; psomim (pl.) in Yiddish) has two meanings: the fragrant spices used during the Sabbath havdalah ceremony, and the box to hold the spices. Havdalah (havdala in Hebrew, havdole in Yiddish) is the ceremony that is performed at the end of the Sabbath and, among other attributes, involves the use of fragrant spices in a special box. This ritual marks the separation from and the end of the holy Sabbath, including transition to everyday life. The essence of the ceremony is clearly encoded on the semantic level as the Hebrew word havdalah means separation.


Besamims, like other ritual objects, were made as beautiful as possible for the ceremony of separation from the holy Sabbath to be highly respectful and prominent, because the havdalah ceremony has a messianic meaning. Fragrant spices resemble the bliss of the Sabbath day and are meant to carry this bliss to the coming week. The sages of the Talmud claim that during the Sabbath a Jew acquires an additional soul, the depth of the Lord opens up to them, and a person can get a glimpse of what the messianic world, in other words, the endless Sabbath, looks like.
 
In Lithuania, besamims in various architectural shapes (turrets, huts) were especially common. This tower-shaped besamim has a rectangular openwork body with an opening door to add fragrant spices. Its body is attached to a round leg, and its top is decorated with a tapering turret, which ends in a ball with a flag on it. At the bottom of the openwork body there are four loops with small chimes attached.
 
This besamim is part of the memorial collection (which includes clothes, accessories, photographs, household items, etc.) of Riva Lozanski-Bogomolnaya (1920–2002) stored at the Vilna Gaon Museum of Jewish History.  Riva Lozanski-Bogomolnaya came from Butrimonys. She managed to avoid death during the Holocaust, stayed in Butrimonys and devoted the rest of her life to commemorating the victims of the catastrophe. Riva Lozanski-Bogomolnaya assembled a rich collection of valuable artefacts and materials about the Jewish community of Butrimonys and its tragic fate.
Prepared by Ilona Murauskaitė, Head of the Collections Department  
© Photographs courtesy of Paulius Račiūnas
© From the collections of VGMJH