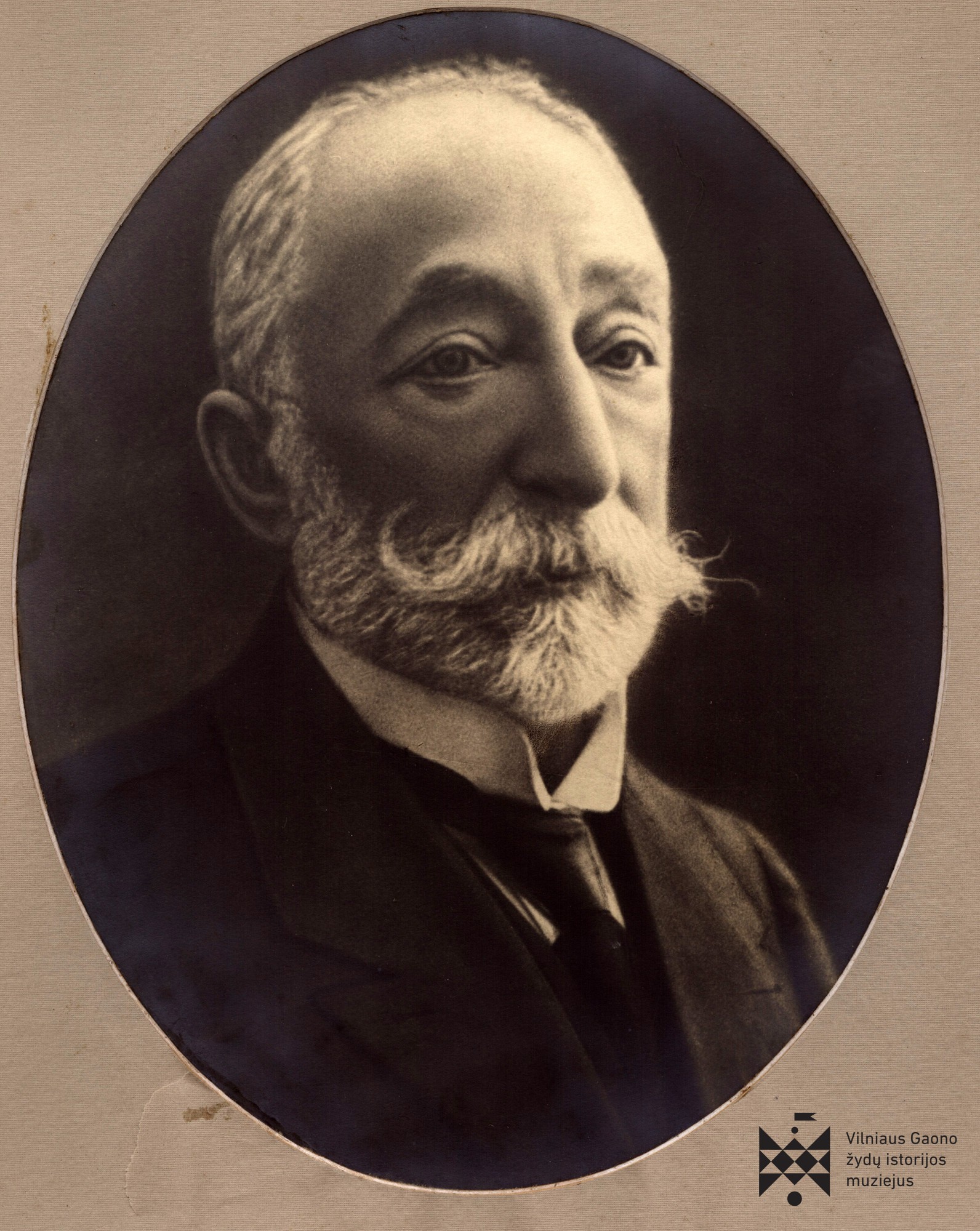 Photo portrait of Kaunas businessman and public figure Iser Ber Wolf (1842–1935), Kaunas,
20th c., Acc. No. VŽM 1110
Iser Ber Wolf (1842–1935), a Kaunas businessman, brewing industrialist, and public figure, was a long-standing member of Kaunas Duma (1876–1905), and an active participant of charitable societies.
 
In 1853, a Jewish merchant Rafail Wolf, the father of Iser Ber Wolf, founded a steam brewery and malt factory in Viliampole, Kaunas, which started brewing Wolf's beer. Later, Iser Ber Wolf took over the business.
 
At the end of the 19th century, Iser Ber Wolf, the owner of the brewery, and Abel Soloveichik bought their rival Ferdinand Engelman's brewery and established a steam brewery and a malt factory named 'Engelman'. In 1927, the owners of I. B. Wolf's brewery and the joint-stock company 'Engelman' decided to merge the two breweries into a joint-stock company 'I. B. Volfas-Engelman'. The official name of the enterprise was 'Joint-stock company "I. B. Volfas-Engelman" combining merged breweries, malt factories and soft drink workshops'. At that time, the company's beer sales accounted for about 40 per cent of the total beer sales in Lithuania. Before World War I, the company exported part of its output to Grodno, Bialystok, Suwalki, and Lomza. 'I. B. Volfas-Engelman' remained the largest brewery in the country until World War II. In 1940, the company was nationalized and from that time on it was referred to as 'The former I. B. Volfas-Engelman brewery'. Starting with 1941, the company was renamed into 'Raudonoji pašvaistė'. In 1941–1944 'Raudonoji pašvaistė' was renamed into 'Perkūnas'. Later, the company had other names and owners.


In 2011, the brewery reclaimed its historical name 'Volfas Engelman'.
 
In 2017, a street in Kaunas next to the 'Volfas Engelman' brewery (former Turbinų St.) was named after I. B. Wolf and F. Engelman.
Sources: 
Prepared by Olga Movšovič, curator of the VGMJH photography collection
© From the collections of VGMJH