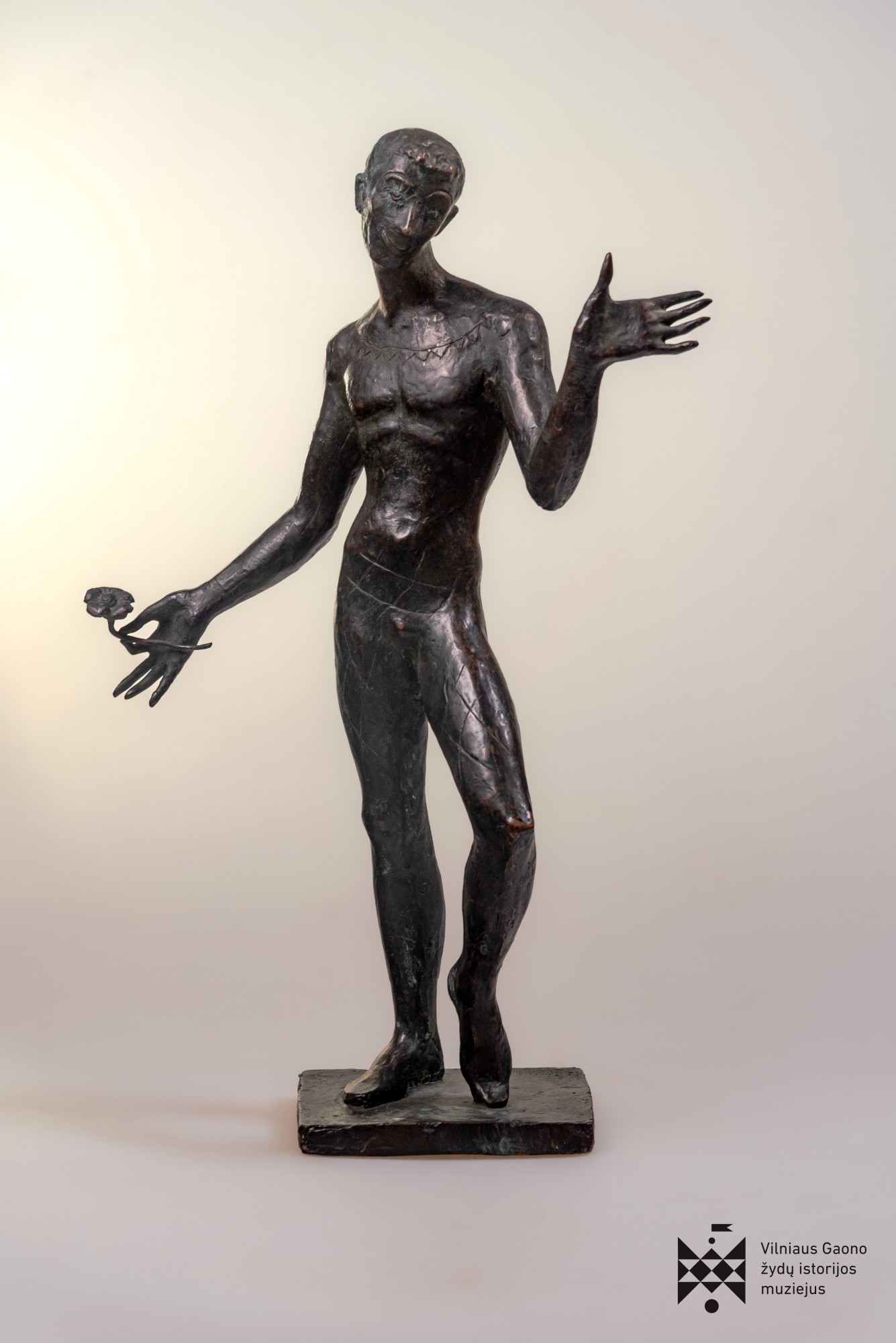 Dmitry Gerrman Jewish Boy, 1990, bronze, 41 x 28.5 x 13, Acc. No. VŽM 245
The small-scale sculpture collection of the Vilna Gaon Museum of Jewish History contains a bronze sculpture by Dmitry Gerrmanentitled Jewish Boy. The sculptor donated it to the museum in 1990. The bronze figure of a young man is full of life. Its fragile, elongated body proportions, including the moment of free motion and the smile captured in bronze, radiate romantic longing. The sculpture is a true gem in the world of small-scale sculpture.


Dmitry Gerrman was born in 1955 in Gomel, Belarus. Until 1974 he studied at the Glebov Art School in Minsk. In 1985, the artist graduated from the Faculty of Monumental Arts of St. Petersburg State Academy of Industrial Arts named after Alexander Stieglitz. In 1990, after the Iron Curtain fell and right before the collapse of the Soviet Union, the young sculptor went to the United States and settled in Baltimore, where he quickly earned recognition. As early as 1993, in recognition of his outstanding talent, the artist was awarded the Leicester Levy Humanitarian Award for his sculpture Weeping Violin. In 1994, on the occasion of conferring the Elie Wiesel Award, the highest honour of the US Holocaust Memorial Museum, this sculpture was presented to Steven Spielberg for his film Schindler's List. In 1996, Gerrman became a member of the US National Sculpture Society. At the turn of the millennium, the artist began an exclusive cooperation with the Findlay Gallery in New York. The gallery has been representing the artist ever since, and Gerrman's latest solo exhibition was held in the spring of 2021 at the Findlay Gallery's Palm Beach location.
 
Experts in contemporary art highlight seemingly opposite themes in the sculptor's work: the search for order on the one hand, and the destruction of order on the other. Gerrman continually pursues the combination of chaos with harmony by placing rough and polished surfaces in juxtaposition, as well as geometric elements together with rich textures.
 
Sculptures, collages and graphic art works by Dmitry Gerrman can be found in museums in New York, the United Kingdom, China, Japan, Brazil, Switzerland, Israel, and Italy.
 Prepared by Irina Nikitina, curator of the VGMJH art collections
© Photograph courtesy of Paulius Račiūnas
© From the collections of VGMJH