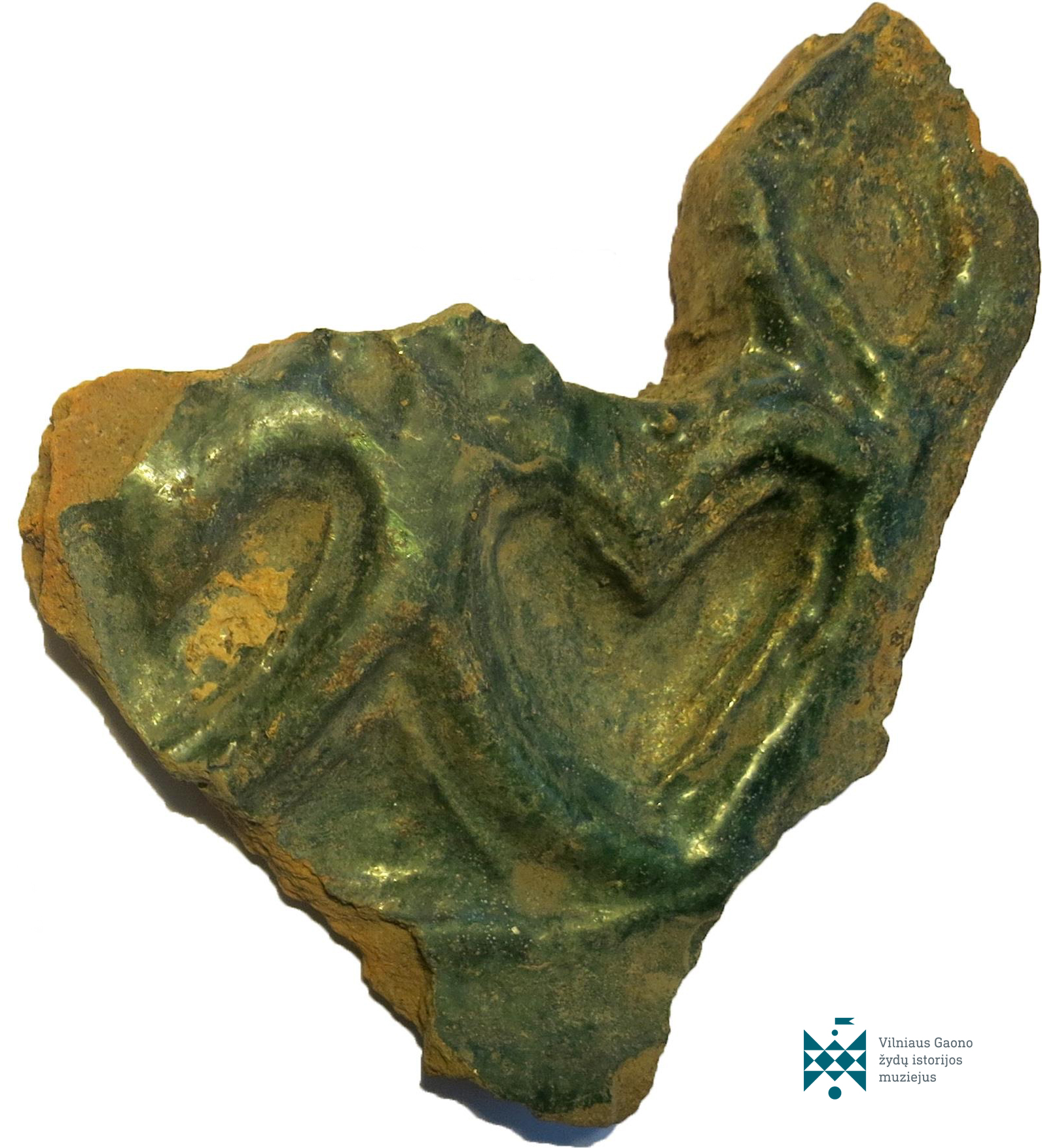 Fragment of a slab wall tile
17th-18th c.c. Acc. No. VŽM 9003/183 
Tiles are ceramic products that are used to form the walls of heating stoves and are used to finish fireplaces and other heated surfaces. They come in various shapes and forms, can be plain or decorated, with floral or geometric ornaments or embossed figurative compositions, and may have coloured glazing or no glazing at all.
Tiles are produced by using a kiln or a pre-made wooden or clay form called a matrix. When a matrix is used, first the entire picture is imprinted onto a large clay slab, and only then the slab is cut into smaller tiles to fit the dimensions of a particular furnace. Later the tiles are dried and baked in the furnace at a 900-1000°C and if glazed, they will be twice baked.
Tile stoves appeared in Lithuania at the end of the 14th century. It is believed that the first tiles were brought to Lithuania from Central Europe (Czechia, Poland). From the 15th to 17th centuries, tiles were made by potters in their private workshops (later in manufacturing workshops) established near mansions, castles and cities. Unglazed pottery-shaped tiles are considered to be the earliest known tiles.
During the archaeological research carried out in the territory of the Great Synagogue of Vilna during 2011 and from 2016 to 2021, about 7,000 artefacts dating from the 15th up to the 20th century were uncovered. Most of them were fragments of household and construction ceramics, with a significant share of tile fragments among them. These findings are characteristic of the cultural layers of Vilnius Old Town.
Prepared by Asta Vasiliauskaitė, curator-researcher of archaeological holdings 
© Photograph courtesy of M. Daubaras
© From the holdings of VGMJH