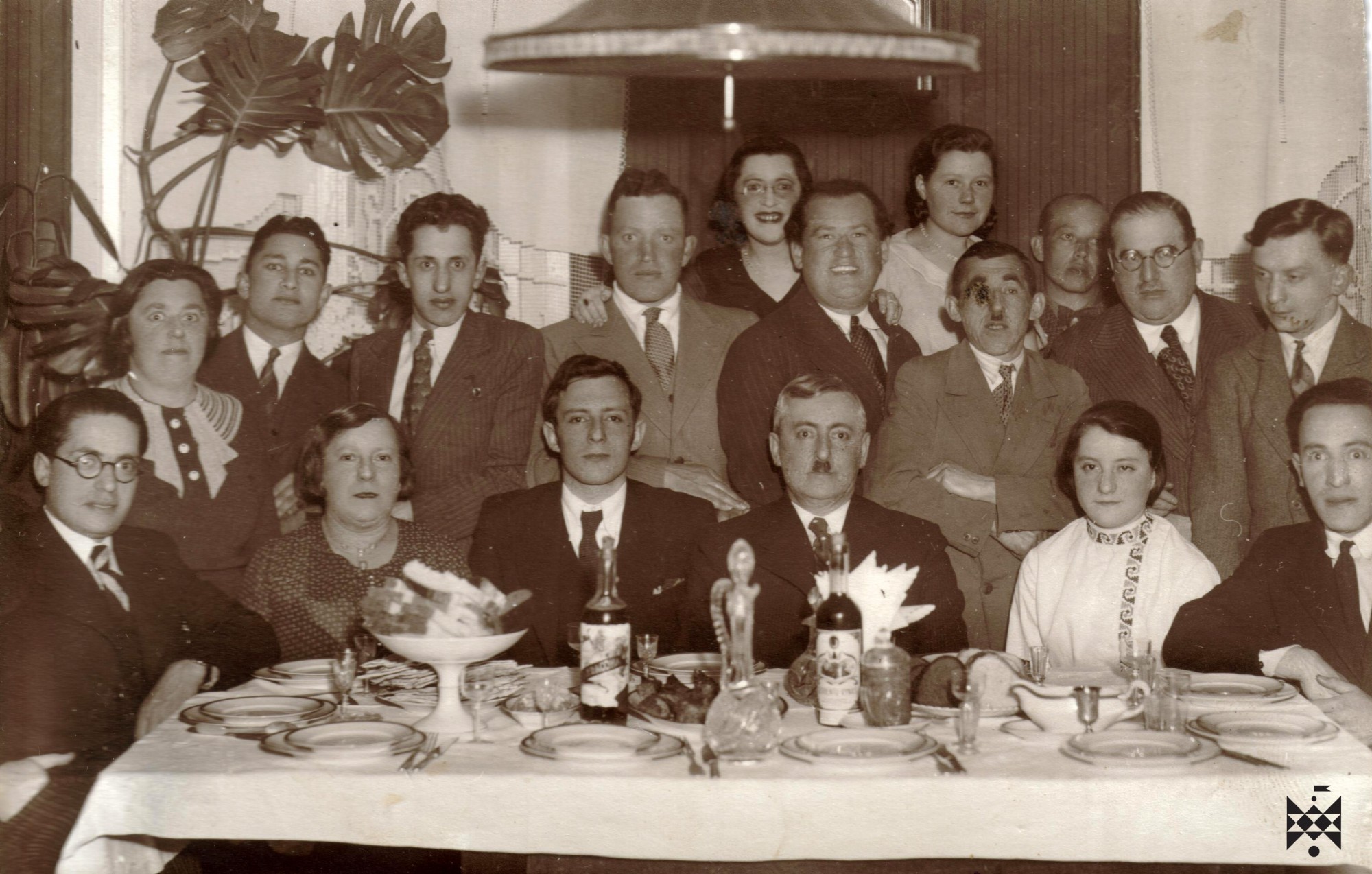 Viekšniai residents at the festive table. The Gelfand family. Viekšniai. Circa 1933-1935. Acc. No. VŽM 2233
Viekšniai is a town in Mažeikiai district situated by the River Venta.
According to the data of 1937, there were about 500 Jews (about 130 families; approximately 18% of the total population) in Viekšniai out of the total number of 2,728 residents.
The Gelfand family is in the front row (in the centre): dentist Samuel Gelfand sitting third from the right, his wife Esther is fifth from the right, their son Sydney Gelfand is fourth from the right and their daughter Sonia is second from the right.
Gelfand moved to Viekšniai at the beginning of the 20th century. Samuel Gelfand (1884, Bobruisk – 5 August 1941, Mažeikiai) graduated from the medical school in Kiev in 1902 and worked as a dentist. His wife Estera Tanur (1891, Skuodas – 5 August 1941, Mažeikiai) took care of the family. In 1911, they had a son named Jehoshua, the future artist Sydney Gelfand (1911, Viekšniai – 1997, San Diego, California). In the Lithuanian press he is also referred to as Gelfend, Gelfond, Gelfund, Geldfan, and Goldfain. Two years later, the family had a second son, Nathan (b. 1913 in Viekšniai).
With the outbreak of the First World War, the family was exiled to the city of Balashov in the Saratov Oblast of Russia. There they had a daughter named Sonia (1918, Balashov - 5 August 1941, Mažeikiai). After the war, the Gelfands returned to Viekšniai.
In 1925, the whole family emigrated to the United States. They settled in Cincinnati, Ohio. Samuel Gelfand did not speak English, so he was unable to get a job as a dentist. In 1927, the Gelfands and their daughter Sonia decided to return to Lithuania. Their sons, Sydney and Nathan, stayed behind in Cincinnati, where they settled with their relative Ida Mark.
In Viekšniai, the Gelfands settled in a house on Bažnyčios Street. In the same house, Samuel Gelfand opened a dental office. Samuel actively participated in the public life of Viekšniai, and belonged to the town's board and the fire brigade society.
Sydney Gelfand studied at the Cincinnati Academy of Fine Arts from 1927 to 1933. He belonged to the Jewish Artists' Club, whose members were young students of the Academy of Fine Arts. In 1933, Gelfand was granted the American citizenship and visited his parents in Viekšniai.
In 1935, Sydney Gelfand left Lithuania for New York.
Sydney Gelfand served in the Navy from 1942 to 1944 and worked as a cartographer. After the war, he settled in the United States and taught in schools. Sydney Gelfand died at the age of 86 in San Diego in 1997.
When World War II broke out, the entire Jewish community of Viekšniai was eradicated.Samuel, Esther and Sonia Gelfand were killed on 5 August 1941 in Mažeikiai.
Sources:
Vilma Gradinskaitė Artist Sydney Gelfand's Journey from Viekšniai to America. REFLECTIONS OF THE CULTURAL HERITAGE OF SAMOGITIAN JEWS. Compiled by Hektoras Vitkus, Jolanta Skurdauskienė, Samogitian Art Museum, Institute of Baltic Region History and Archaeology of Klaipėda University, Klaipėda University Press, 2019
Prepared by Olga Movšovič, curator-researcher of the VGMJH photography collection
© From the collections of VGMJH