Torah Pointer fragment. 19th (?) century, white metal. Acc. No. VŽM 9144/ 290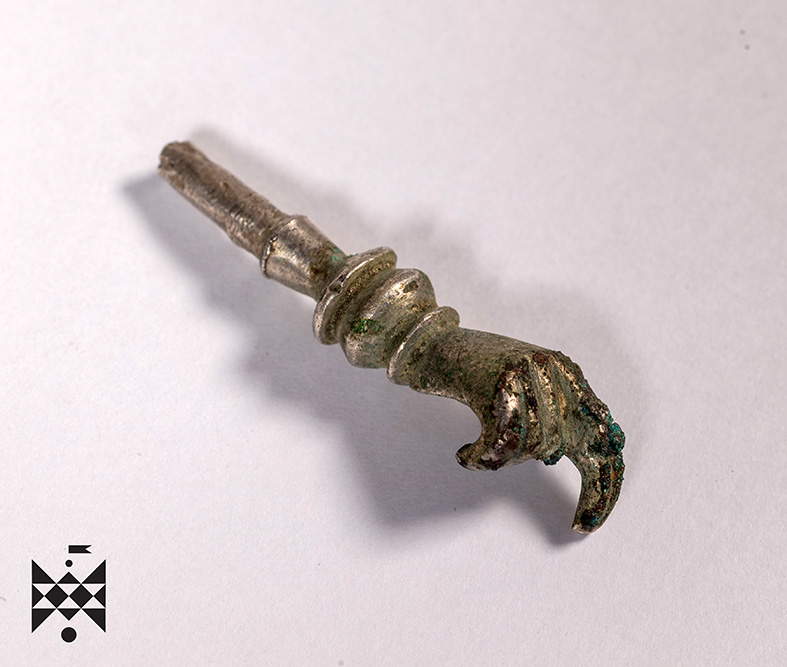 Vilna Gaon Eliyahu ben Shlomo Zalman, a world-renowned commentator of Torah and Talmud of the 18th century, made Vilna widely known as the Jerusalem of Lithuania with the Great Synagogue of Vilna as its symbol. The Great Synagogue was built at the end of the 16th century to the beginning of the 17th century, withstood numerous attacks and fires over the centuries and was severely damaged during World War II. It could have been rebuilt, but by the decision of the Soviet authorities in 1955—1957 the remains of the buildings of the Great Synagogue and the synagogue yard were demolished and aligned with the ground.   
Archaeological excavation was conducted on the territory of the Great Synagogue of Vilna in 2011 and 2016-2021. The latest excavation season was marked by a special discovery — a fragment of an arm-shaped Torah pointer (yad). The yad is a pointer, often made of metal, less often of ivory or wood, which is used by the reader to follow the text during the Torah reading. One end of the yad usually takes the shape of a hand with a pointing index finger, and at the other end of the yad there is a chain for attaching it to the Torah scroll.
The Torah scroll is one of the most sacred of all sacral objects for Jews. The Torah text is written on parchment made according to the Jewish tradition by using the skins of livestock fit for consumption. The text is written by the scribe — sofer — specifically prepared to do so. Sofer writes the sacred text by hand with a feather quill in black ink. The Torah scroll is adorned with a luxurious mantle, crowns, and shields that are hung on the mantle of the Torah.  It is held in the holiest place in the synagogue — aron kodesh. The scroll is rolled on two wooden shafts, the tops of which are decorated with crowns. On certain days of the week and at certain times of prayer at the synagogue, the Torah scroll is read. For that purpose, it is taken out of aron kodesh and placed on bimah — a raised platform with a reading desk from which the Torah is read. In order not to touch the Torah scroll with their hands, the reader uses a special pointer (yad) to follow the text.
Prepared by Asta Vasiliauskaitė, curator-researcher of archaeological collections
© Photograph courtesy of Paulius Račiūnas
© From the collections of VGMJH