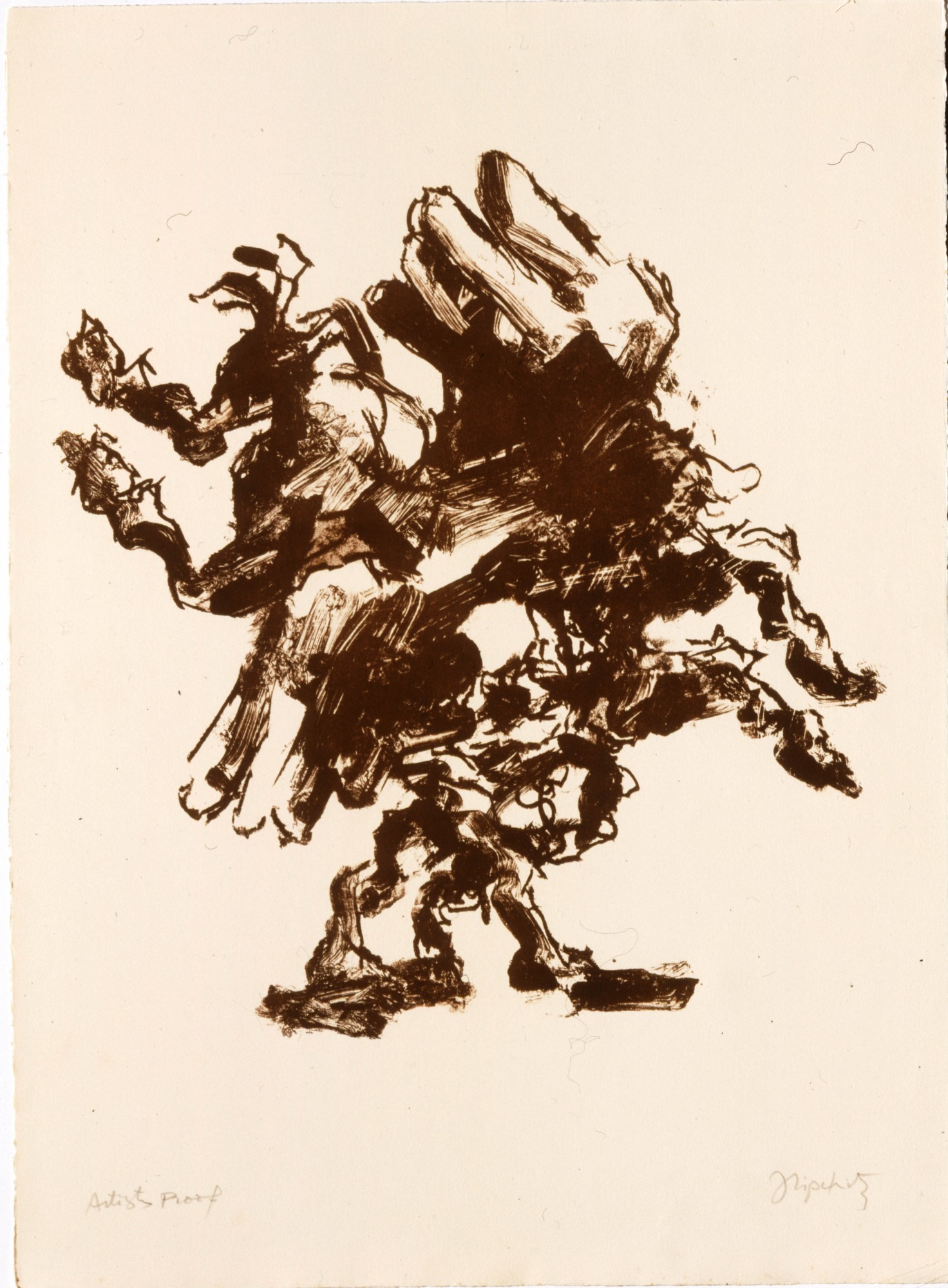 Jacques Lipchitz, Bellerophon Taming Pegasus. Colour lithograph for sculpture, 76 x 56.6 VGMJH
This lithograph is a preparatory study dedicated to one of the most famous heroic works of sculptor Jacques Lipchitz (1891–1973). The sculpture Bellerophon Taming Pegasus was created in the United States in the 1960's as commissioned by the Law School of Columbia University. The school commissioned a sculpture symbolizing law and justice. 'Just don't expect a blindfolded Themis or any another banal plot from me,' the artist wrote in his memoirs, but still he searched for ideas for the work in ancient stories. In Greek mythology, Bellerophon is a hero who defeated Chimera with the help of Pegasus, the winged horse. Jacques Lipchitz, as had become customary in the heroic sculptures he created, presented a peculiar plastic interpretation of the myth. In his composition, Pegasus is a great frantic creature symbolizing our senses and emotions - the natural side. Bellerophon, meanwhile, represents mind, rationality, will, and wisdom. Looking at these two figures in the composition intertwined in the manner which is so characteristic of Lipchitz's artwork it becomes obvious that it is not easy for the mind to curb emotions - it is not easy to achieve justice.
This lithograph is one of the three works by Jacques Lipchitz preserved in the collections of the VGMJH and dedicated to the theme of Bellerophon and Pegasus, which Lipchitz explored between 1964 and 1969. The surviving sketches, drawings, lithographs and plaster etudes show extremely meticulous preparation of the artist for the best plastic result in bronze or stone. The most famous examples of Jacques Lipchitz's heroic works, symbolizing such values as freedom and democracy in the world divided by World War II and later the Cold War, adorn squares and parks of the world's largest cities.
Prepared by Aušra Rožankevičiūtė, museology specialist of the VGMJH.