| | | |
| --- | --- | --- |
| THE ALLEY OF THE RIGHTEOUS: JUOZAS RUTKAUSKAS | | ← |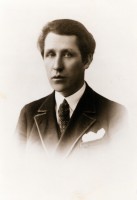 JUOZAS RUTKAUSKAS
1 9 0 4 – 1 9 4 4
Juozas Rutkauskas supplied hundreds of Jews with Christian documents
and thus saved over 100 Jews...
ONA ŠIMAITĖ
During the war, Juozas Rutkauskas worked at the Rudamina passport department of Vilnius Region. He supplied a great number of inmates from the Vilna Ghetto with passports. Rutkauskas used his daughter's, Margarita Rutkauskaitė, birth certificate to obtain a passport for Jeanne Ran whom he knew from before the war. As a result, Ran managed to leave occupied Lithuania and found a job as a translator at the Minsk Branch of the Rosenberg Headquarters. With the front approaching Jeanne Ran managed to establish contact with Belorussian partisans and ran away.
Most of the people whom Rutkauskas supplied with a passport, managed to leave for Germany as labourers from the East, and survived. In her memoir Unbelievable Truth Ran tells about the activities Rutkauskas was involved in as he tried to pass forged passports over to the inmates of the Vilna Ghetto. After the Vilna Ghetto was liquidated, there was not a day when Jews were not hiding in Rutkauskas' home. Unfortunately, Rutkauskas himself did not avoid the fate of Lithuanian Jews. In 1944, the Gestapo arrested and killed him. The memory of Juozas Rutkauskas, an outstanding rescuer of Jews from the Vilna Ghetto, was honoured by naming a street in Vilnius after him.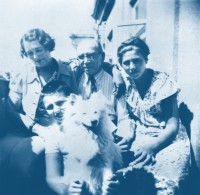 Jeanne Ran (on the right), one of the Jews rescued by Juozas Rutkauskas, with her parents and brother. Jonava, 1937
From: Whosoever saves a single life, saves an entire universe
Vilna Gaon Museum of Jewish History, Vilnius, 2019.