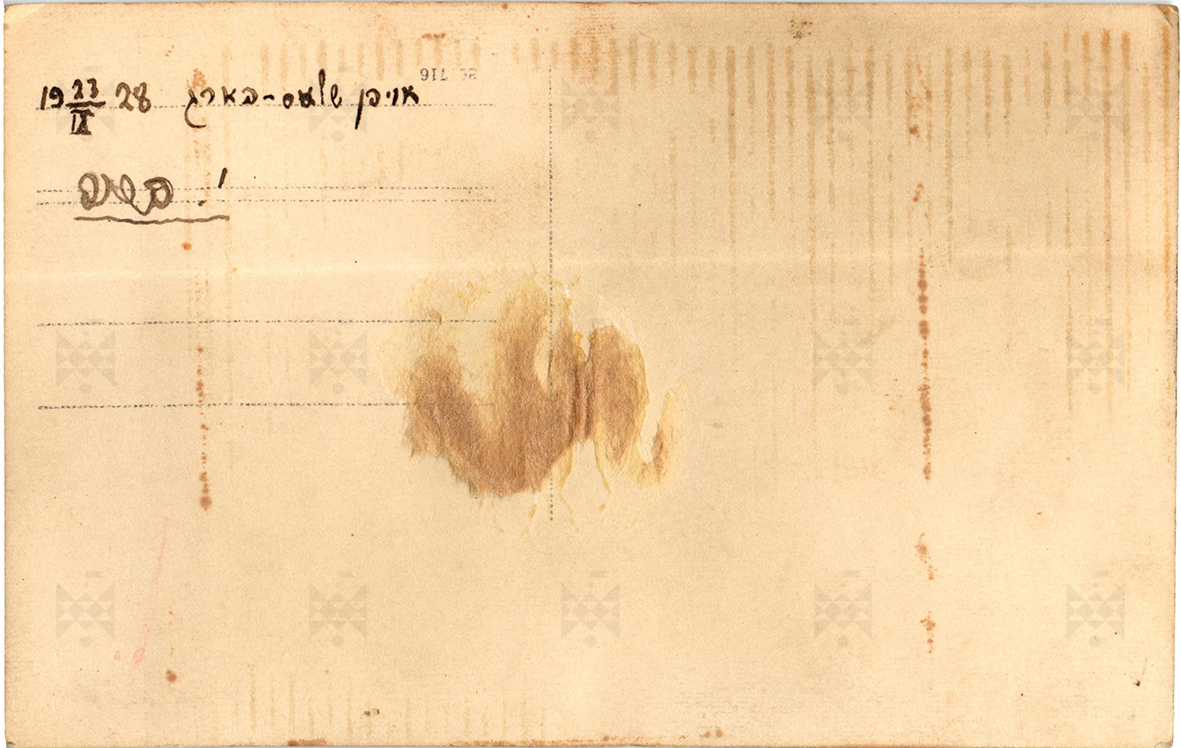 The digital photograph (inventory No. VŽMP 8293/ 61) is a present to the Museum from  Zyron Krupenia from Australia after his visit to the Tolerance Centre in Vilnius in 2019. His father Israel Krup, was born in Vilnius and lived here till 1930 before later emigrating to South Africa. On the reverse side of the photograph there is an inscription in Hebrew made in black pencil, which reads: אוּיפן שלאַס - בארג / 1928.9.23 / י. קרופ. (On Castle Hill, 23/09/1928 I. Krup [Izraelis Krupenia])
It is a group portrait of six young Jewish men posing next to a cross decorated with wreaths on Castle Hill in Vilnius (this was the name of Gediminas Hill according to the Polish tradition). The posed group portrait was made in September 1928. Oak wreaths hang from the cross and a second wreath made of flowers and greenery leans against the cross. A Polish sign – a cross in an oval frame with an eagle from the Polish coat of arms in the centre and the date 1918.XII.31 – can be seen below the oak wreath (at the end of December 1918, after the German occupation army retreated from Vilnius, the city was controlled for several days by Polish nationalists who referred to themselves as the Vilnius Volunteer Self-Defence Squads).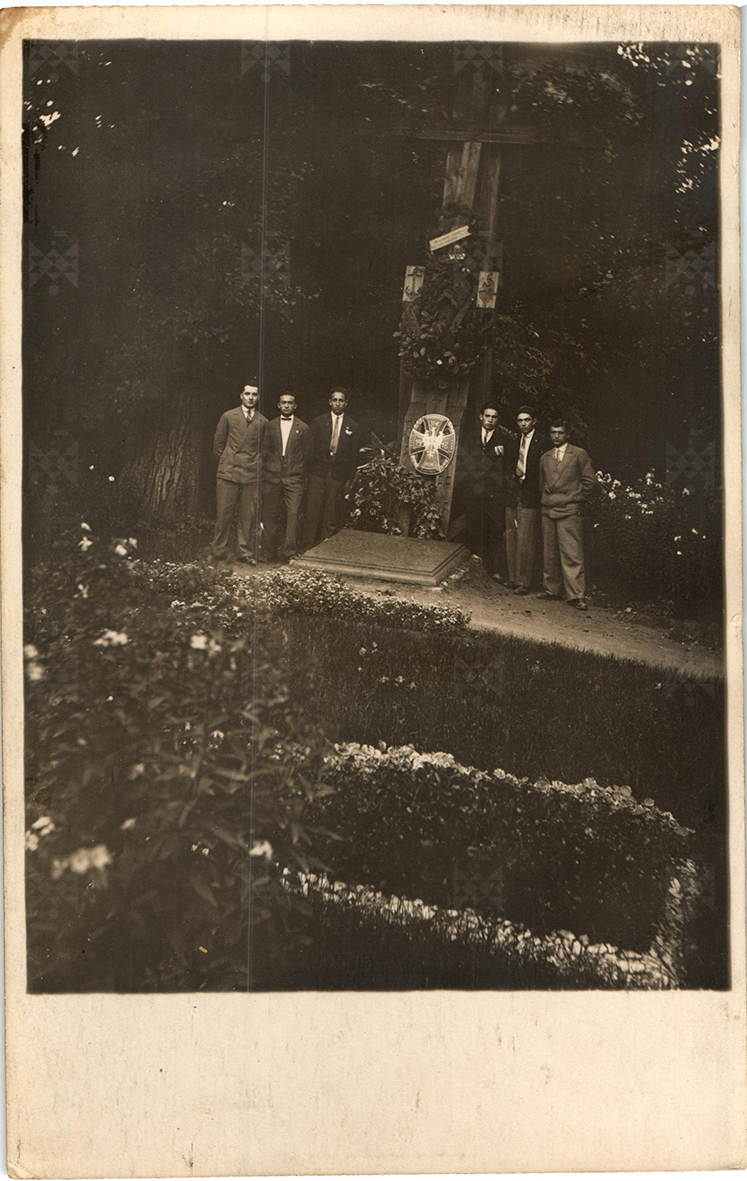 The cross, which bears the symbols of an anchor and a heart, was designed by architect Antanas Vivulskis (1877–1919) and erected on Gediminas Hill on 17 August 1917 in memory of the priest Fr Stanislovas Išora and Zigmantas Sierakauskas (1826–1863). On that same day the cross was demolished by the German occupation army and was rebuilt on 20 January 1921 to commemorate the anniversary of the uprising. In 1925, two plaques were erected on the site of the cross: one bearing an inscription in Polish saying 'To the Unknown Soldier' and the other bearing the names of the participants of the 1863–1864 uprising who were sentenced to death in Lukiškės Square. In June 1940 (yet other sources refer to the beginning of World War II) the cross disappeared again. According to historian Darius Staliūnas (Own or Alien Heritage?: the 1863–1864 Uprising as a Lithuanian Memory Site. – Vilnius, [2008], p. 65), the cross did not disappear during the war, but was allegedly demolished by Lithuanians in 1940.
The remains of Zigmantas Sierakauskas and Konstantinas Kalinauskas, leaders of the 1863–1864 uprising, and those of 18 other participants of the then events, were discovered during the excavations performed on Gediminas Hill in 2017–2018. On 22 November 2019, an official reburial ceremony was held, and the remains were moved to another place for eternal rest – the columbarium of the central chapel in Rasos Cemetery in Vilnius.
Sources:
Prepared by Jovita Stundžiaitė-Olšauskienė, conservationist-researcher of auxiliary holdings.
© VGSJM holdings