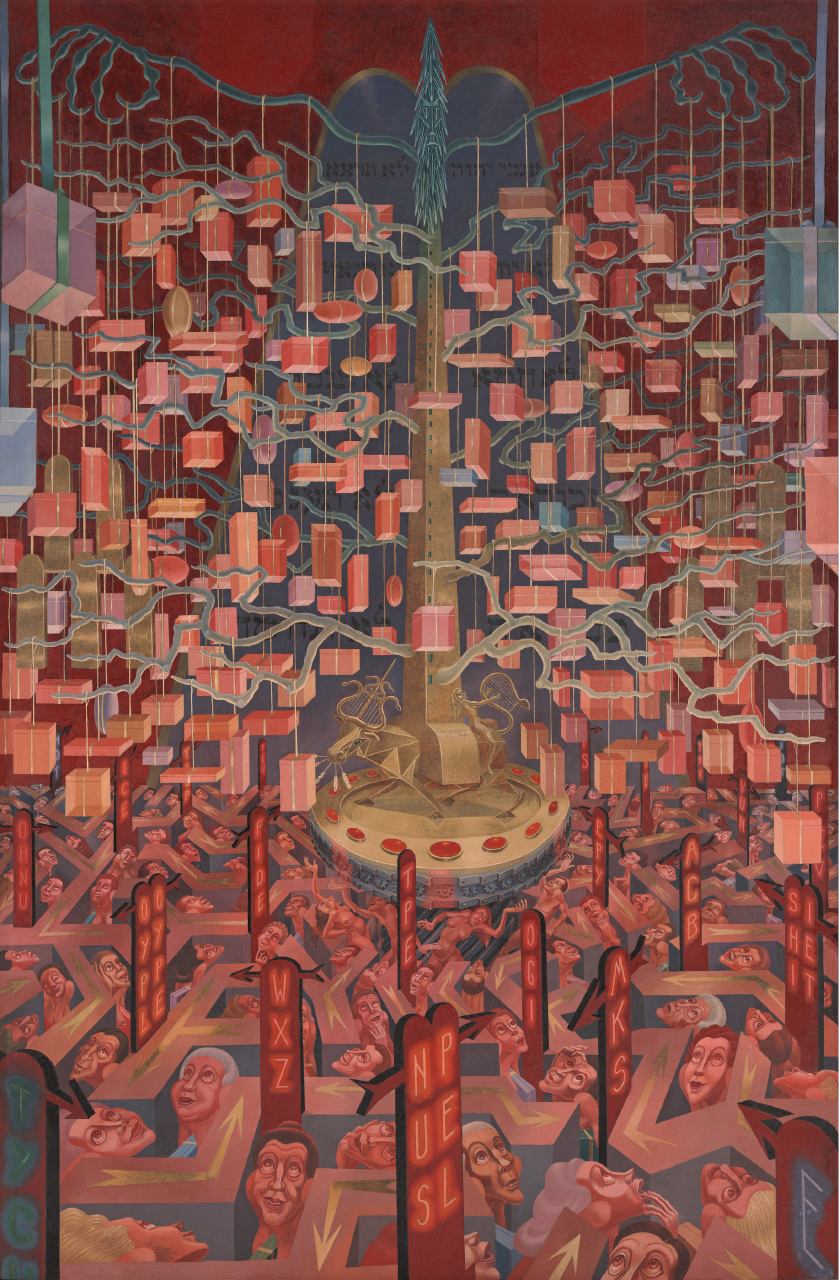 Irving Norman, Golden Calf, 1957, oil on canvas, 211x140 cm
In 2008, the Museum received a gift – the Colden Calf, a painting by Irving Norman, donated by the artist's wife Hela Norman and art patron Susan Carson. IrvingNorman was born Isaac Noachovich on 10 January 1906 in Vilnius, which at that time was part of the Russian Empire (died in 1989 in Gales Ferry, Connecticut). His father Yehuda Leiba Noachovich and his mother Nachame were shopkeepers. Irving was nine when the Germans took over the city in 1915. At the same time his father abandoned the family, but his mother found the strength to raise her four children – a daughter Betty and three sons Irving, Henry and Albert – alone. Irving loved drawing from early childhood. His first drawings depicted the city of Vilnius occupied by the German army.
The family lived in poverty and Irving did his best to help his mother provide for it. He sold newspapers on the streets and decorated the windows of his mother's shop with advertising that he drew himself to attract customers. Irving remembered: 'My uncle considered me to be a promising artist, he even wanted me to go to art school, but then the war broke out and all the plans were ruined.'
After Poland occupied Vilnius, the family moved to Kaunas. This is what Norman remembered about this period of his life: 'I was selling newspapers. I had the biggest number of buyers in the whole city and was both free and, to tell the truth, absolutely happy.'
In 1923, 17-year-old Irving emigrated to the USA with his sister Betty. Later the artist remembered: 'We had a dream… we were dreaming about this country. We developed a special interest in it as a result of the American movies that we watched at the time we lived in Kaunas. American movies, metropolis, and people driving cars. I used to say: God, if people can afford to drive cars, I bet they have enough bread to eat, too.'
Norman settled down in New York and found a job as a barber. In 1925, his mother and brothers Henry and Albert arrived from Lithuania, too. In 1929, Norman became a US citizen. In 1938, he joined the army as a volunteer to fight Fascism in Spain. According to Norman, it was a war between democracy and Fascism, a war between good and evil, and he absolutely had to take part in it. The fight between good and evil continued throughout the artist's life and later continued in his paintings.
Russian poet and artist Boris Pasternak once said the following: 'Every generation has its own fool who keeps telling the truth the way he sees it.' Norman devoted his creative life to truth. In his large-scale paintings in the style of social surrealism the painter rebelled against consumerism and collective greed, religious fanaticism and political corruption in the world. His monumental, politicised art full of symbols annoyed the US art elite for many years. In 1950, his watercolour Megapolis,dated 1949 was even removed from an exhibition in San Francisco. It was the only painting ever removed from the museum.
It was only in 1970 that Norman's artwork received recognition. In 1973, art critic Alfred Frankenstein wrote: 'Until now were unable to understand Irving Norman. For a long time his paintings seemed to be too large for us… too detailed… overly critical of the American society.'
Norman's artwork could be said to be a chronicle of our times. The Golden Calf is part of the chronicle, too. In his work the painter reminds us of the Israelite story of worshiping a golden calf (ST, Exodus 24:12–18, 32:1–30) and reflects on it through the prism of life in a modern megapolis. The far background of the painting is reminiscent of the Decalogue tablet that Moses brought down from Mount Sinai with the initial words of all Ten Commandments inscribed in two columns. Unfortunately, busy residents of the megapolis do not care about the norms of ethics and morale anymore. Nowadays this message of the painter is as topical as ever.
Dr Vilma Gradinskaitė, museology specialist at the History Research Department of VGSJM.