| | | |
| --- | --- | --- |
| 'BOOKS DO NOT GROW ON TREES': SAVING AND TRANSMITTING MEMORY | | ← |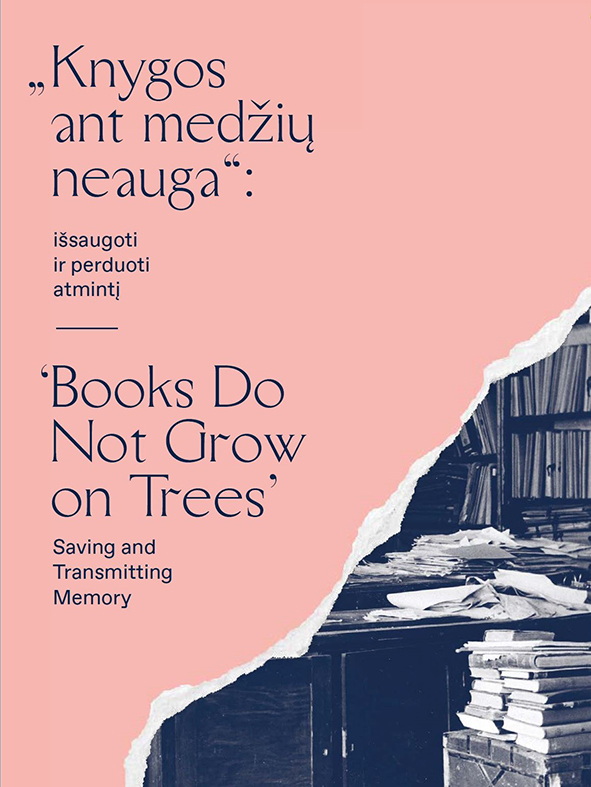 Please for more information contact:
Museology Specialist Aušra Rožankevičiūtė
Phone: +370 616 57 890
DESCRIPTION OF THE EXHIBITION
Knowledge and books have always been fundamental values for Jews. Nurturing of the written word and the introspection of communities was a phenomenon characteristic of Jews throughout the world.
In memoirs about the Vilna Ghetto many contemporaries quoted one of the leaders of the YIVO institute, Zelig Kalmanovich (1885–1944): 'Books do not grow on trees.' In this context, the word "books" should not be understood directly - here they symbolize the whole culture of Vilna Jewry. Indeed, not all prisoners in the Vilna Ghetto understood why people risked their lives to bring books and documents to the ghetto instead of food and other products that were vital under harsh ghetto conditions.
This exhibition invites to learn how traditions, national identity and historical memory were formed and passed down from generation to generation and preserved to this day by Jews in Vilnius. The exhibition presents the most valuable exhibits of the Judaica collection of the Vilnius Gaon Museum of Jewish History, not as individual static objects, but revealing the circumstances and reasons for their creation and preservation. The exhibits themselves become participants, witnesses, and narrators of different historical peripetias, and the museum's exhibition is a look at a full-fledged and very significant part of Lithuanian history and culture.
The travelling exhibition as a version of the permanent one prepared in 2020.
The exhibition is complemented by illustrated 43 pages catalogue.
Curators of the exhibition and authors of the texts:
Rūta Anulytė
Dr. Stanislovas Stasiulis
Saulė Valiūnaitė
Exhibition design:
Eglė Vitkutė
Sponsors:
Lithuanian Council for Culture
U.S. Embassy in Lithunia
TECHNICAL DATA OF THE EXHIBITION
The exhibition consists of 17 panels both in English and Lithuanian.
Size of each panel is 100x200 cm.
The panels are installed on the floor.
Content of the Exhibition:
1.

                  
'Books Do not Grow on Trees': Saving and Transmitting Memory (1 panel)
2.

                  
A Nation without Aristocrats (2 panels)
3.

                  
'Funem folk, farn folk, mitn folk' – 'From the people, to the people, with the people': creation of intelectual Jewish identity (2 panels)
4.

                  
'The book has become a consolation in loneliness, in malinas, and in the underground...': Vilna Ghetto Library (2 panels)
5.

                  
'Cemetery of Books' (2 panels)
6.

                  
'People should not be allowed to forget': Jewish Museum of post-war Vilnius (2 panels)
7.

                  
'The past knocks on memory...' (2 panels)
8.

                  
Long Way in Time and Space (2 panels)
9.

                  
Treasure (2 panels)